Top 10 Privacy Activists to Follow on Social Media in 2022
You've probably heard the names Edward Snowden and Julian Assange being thrown around in a conversation about Internet privacy and digital surveillance, but those are not the only privacy activists whose names you should know.
Here are 10 more privacy activists that you should pay attention to and follow on social media in 2022:
Biggest Digital Surveillance and Data Privacy Advocates on Twitter
1. Chris Hoofnagle (@hoofnagle)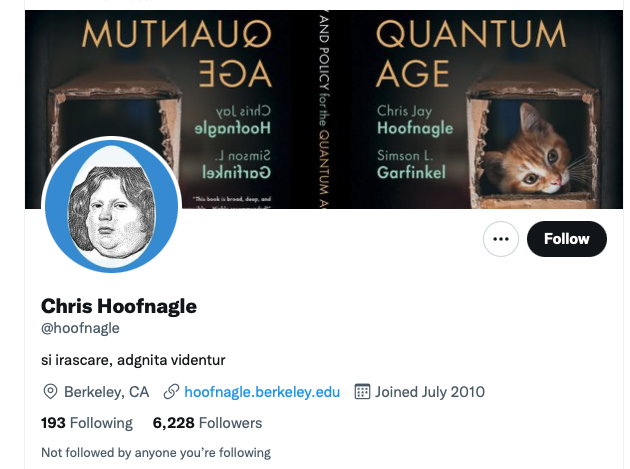 Chris Hoofnagle is a researcher and lecturer at UC Berkeley. He is best known for challenging the notion of a "free" Internet and pointing out that you are still paying for the service you're getting from big tech companies like Google, Facebook and others with your private data.
You can follow Chris at @hoofnagle.
Founder of alt-tech social media and social networking service MeWe, Mark Weinstein, is another data privacy name worth mentioning. His startup "Sgrouples" is known for "disrupting the bog tech industry with a strict no targeted ads, no third-party cookies and no selling user information to 3rd-parties policy while also giving users full control of their personal data.
Follow him at @markweinstein)
Jules Polonetsky is an Executive Director and Co-chair at the Washington, D.C. think-tank Future of Privacy Forum and one of the biggest online privacy advocates in the world. He is also a regular speaker at tech events (take a look at his 2012 TED Talks).
Follow Jules at @JulesPolonetsky.
Eric Vanderburg is a cybersecurity expert, so if you're looking for the latest in malware, spyware and hacking in general, he's your guy! He is also a VP of cybersecurity at TCDI.
Follow him at @evangerburg. on Twitter
5. Glenn Greenwald (@ggrenwald)
If the name Glen Greenwald sounds familiar that's because without him we probably wouldn't hear about that NSA whistleblower called Edward Snowden. Glen was the reporter who Snowden contacted while still working for the National Security Agency (NSA) in 2012 and from there the rest is history.
Of course, Greenwald himself is an influential name in online privacy and an often critic of the U.S. and Brazilian governments and the surveillance capitalism in general.
You can follow Glen at @ggrenwald.
6. Gabriel Weinberg (@yegg)
Gabriel Weinberg is the CEO and founder of the data privacy browser DuckDuckGo, which just hit 100 billion private searches a few days ago. That's pretty big.
Follow Weinberg at @yegg.
Frederike Kaltheuner is a tech policy fellow at Mozilla, analyst and researcher and a big critic of the online system (which she says is "f*cked"). She is also the Fund Manager at the European Artificial Intelligence Fun.
Follow Frederike on Twitter @F_Kaltheuner.
Omer Tene is the VP of Research and Education at the IAPP (International Association of Privacy Professionals). IAPP is one of the largest organizations of privacy advocates in the world, with over 15,000 members across 80 countries so being one of the top people in such an organization speaks volumes about Omer Teen.
In addition, he also wrote several papers on data privacy, often alongside Jules Polonetsky.
Follow Omer Tene @omertene
Arvind Narayanan is a researcher at Princeton who is best known for his study with Vitaly Shmatikov at the University of Texas in 2006 of Netflix's "anonymous" data set of mobile ratings.
Namely, Narayanan was able to identify several "anonymous" Netflix users based on their rating patterns and their social forum content found on movie fan sites.
You can follow Arvind @random_walker.
10. Alessandro Acquisti (@ssnstudy)
Alessandro Acquisti is a a data security researcher at the data security research center Cylab at the Carnegie-Mellon University and a professor of computer science there as well.
He is most famous for using facial recognition software and matching photos of random students at CMU campus and matching them with their Facebook head shots. By connecting the names and location of students with some other information, he was able to get parts of their social security numbers (SSN)!
Again, from a photo!
Follow Alessandro at @ssnstudy on Twitter
Do you know of any other online privacy advocates that we forgot to mention here? Also, be sure to follow CTemplar on Twitter at @RealCTemplar.